Beth offers individual and partner therapy. This is what she has to say about her work.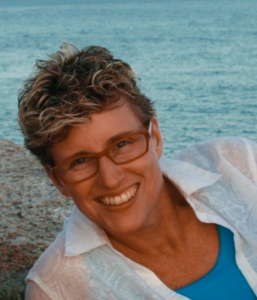 I believe that our past experiences, thoughts, and feelings impact our present-day actions, experiences, thoughts, and feelings. Often, through better understanding the impact of the past on our present life, we have the possibility of making more conscious, positive changes- personally and professionally.  What makes the individual and partner therapy I do with people different than many?
Integrative Approach: I have a very integrative approach that includes working with the interconnections between the body, the mind, the spirit, the emotions and the impact of external cultural and societal constructs on individuals and family systems (however you define family).
Body-Mind Connection: My extensive experience as a massage therapist and bodyworker informs my work as a psychotherapist.  Our bodies hold stories and experiences that our minds may not even understand.  Sometimes, it is through increasing one's awareness and mindfulness around our bodies that we can bypass our conscious mind and gain access to aspects of ourselves that would otherwise be lost to us.
Trauma: Because of my understanding of the bio-physiology of trauma, I am able to work together with trauma survivors both physiologically and psychologically to better manage the impact and effects of trauma- on the body, the mind, the spirit, the emotion, and societally. Trained in Somatic Experiencing
Fluidity in gender/sexuality: I believe that our definitions of partnership and family vary. There is a fluidity to love, passion, sex, sexuality, relationships, and family structure that is often not supported in our dualistic world. I have comfort and experience in working with a variety of people who define their personal, sexual, sensual, passionate, and familial lives in multifaceted ways.  For people who identify themselves as partners, I will be happy to work with you.
Adoption: My personal experience as an adoptive parent has changed my life. Being a trans-racial family- and therefore a conspicuous family- has added further complexities to something already complex. I believe in the necessity of acknowledging and working with the whole 'adoption constellation'.  Being an adoptive parent and being white, I hold incredible privilege. Raising adopted children of color requires me to own the privileges I hold and be accountable for their impact. I do not believe that because I am raising children of color, that I "have special access to people or color or to understanding racism from the inside.  I do know that raising children of color has also changed my life and my internal and external awareness and experience of racism. When I work with people around adoption and transracial adoption, I work directly with issues of race, class, culture, privilege, and accountability.  I work directly with every part of the adoption constellation. Not only do I have personal experience as an adoptive parent, I have trained myself to be an "adoption competent" therapist, particularly in trans-racial adoption.
Intersectionality: As a white, upper-middle class, master's level educated, cis-gender, lesbian woman in recovery and being an adoptive parent raising two African-American boys with learning differences, I have extensive personal experience navigating the intersections of race, class, gender, gender identity, sexuality and sexual orientation, adoption, learning differences.  I see how these impact day to day life as well as how we are impacted daily by these systems and structures that can oppress us and also privilege us.  This personal experience informs my professional work. I love working with the intersectionality within people's lives.
Fees:
I don't believe the 50-minute hour works for all people.  Often, people are just getting started and they need to finish the session.  I offer a variety of options for clients, depending on what works best financially and personally.  Here are some options, though I am happy to talk with you about what you find works best for you.  We will collaborate to decide what is the best fit for your needs. I do not take Insurance, though I can supply you with an invoice that you can submit to your insurance company for out of network benefits, should you have that possibility.
• 60-minute hour $150
• 90-minutes $225
• 2 hours $300